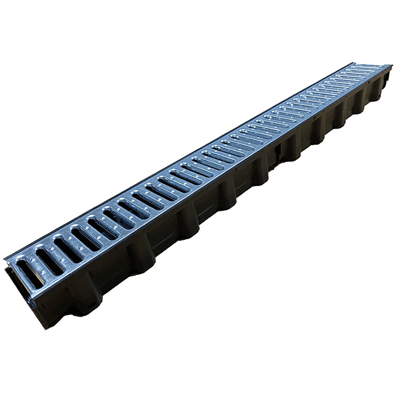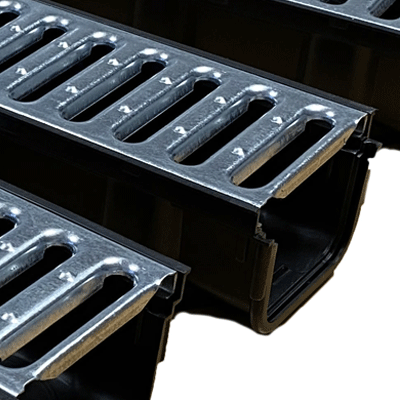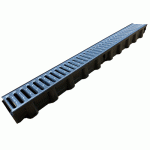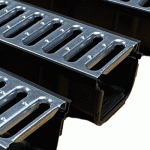 Garage Channel Drainage Galvanised Grate A15 x 1m
inc vat
Loading Class: A15
External Dimensions: 114mm (W) x 78mm (D) x 1000mm (L)
Internal Width: 100mm
Body / Grating Material: Plastic / Galvanised Steel
Style: Slotted
Description
Garage Channel Drainage Galvanised Grate A15 x 1m
Loading Class: A15
External Dimensions: 114mm (W) x 78mm (D) x 1000mm (L)
Internal Width: 100mm
Body / Grating Material: Plastic / Galvanised Steel
Style: Slotted
This DekDrain A15 channel drainage system features a plastic body with a galvanised steel slotted grate, making it lightweight yet also strong. The slotted linear bar grating design is unique, modern and stylish perfect for many A15 loading applications including paving, gardens and pedestrian areas. This channel drain features a simple & secure socket and spigot slide-in connection, allowing quick and easy installation for DIY projects and professionals, no screws needed!
Each length of drainage channel measures 1 metre, however for applications that require a shorter length there is a cutting point at 500mm. To go around corners and change path of your channel drain in up to four different directions you can purchase a Corner Quad with a Galvanised Grate, or you have the tools you can simply cut your channel drain at your desired angle instead. If you would like to connect to your existing 110mm drainage pipe, or cap off the ends you will need to add an Accessory Bag. If you prefer a black plastic finish, you can purchase this exact A15 DekDrain channel with plastic grating here.
Drainage Channel is often referred to as ACO Drain, Channel Drain, Trench Drain and Linear Drain. The main purpose of channel drain is help prevent flooding and overspills by discreetly using gravity to move surface water from one area to another. Channel drainage comes in many different sizes, styles and materials which are suitable for a wide range of light & heavy duty applications.
The maximum weight load for A15 class is 1.5 tonnes, meaning that an A15 loading on an ACO channel is suitable for pedestrians only. A15 is designed to be used for light domestic and landscaping projects, such as public footpath areas, patios, gardens, garage thresholds and light traffic areas.
DekDrain is certified to BS EN 1433 and manufactured by Deks Industries. Deks strive to provide user friendly and high quality channel drainage solutions across the globe. Their cost-effective, yet also innovative and stylish products prove to be a great hit with our customers for the right reasons!
Free Delivery On Orders Over £75.00 Including v.a.t*
Just £12.00 inc v.a.t delivery charge for unders on £75.00
Delivery within 2-3 working days from receipt of order.
Please anticipate that all deliveries will be made on an 18-Tonne Hi-Ab Vehicle – in some circumstances and on smaller orders we may send a smaller vehicle if the orderded products allow this.
Please note at the moment – some products are proving difficult to supply/source in to certain areas, particular areas which are more rural. As the range of products which are difficult to source in to the different areas is so vast and changing weekly – we will contact you via email once we have received your order with any issues we need to highlight. This may result in a cancellation of your order and a full refund, or an option to get it there a different way.
We aim to have all deliveries made within 2-3 working days or the date specified at checkout.